Conte di Cavour-class Battleship

| | |
| --- | --- |
| Affiliation | Regia Marina |
| Max. Displacement | 25,086 |
| Main Guns | 5 turrets (2 forward, 2 aft, 1 mid-ship) |
| Sub Guns | 16 turrets (8 per side) |
| Torpedoes | N/A |
| Depth Charges | N/A |
| Has Camouflage | Yes (1) |
| Cost | 705,420 |
| REXP | 31,500 |
| REXP Gain Rate | 5% |
| Required Level | 37 |
| Upgraded From | Dante Alighieri-class, Zara class |
| Upgrades Into | Conte di Cavour (1940) class |
Note : This page refers to the Conte di Cavour class before reconstruction in 1940
See here for the refitted ones.
The Conte di Cavour class battleships were dreadnoughts built by the Italian navy for use in World War I (however, none fought the war). There were only 3 of these dreadnoughts built, the Conte di Cavour, the Giulio Cesare and the Leonardo da Vinci. The battleships were built in response to the French building their Courbet-class battleships. The Leonardo da Vinci was sunk by a mine in 1916, leaving 2 ships. The two ships (the Conte di Cavour and the Giulio Cesare) were refitted in the years 1933-1937. The two ships saw action during World War 2. The Conte di Cavour was sunk during the Battle of Taranto, and the Giulio Cesare was after being hit by a mine.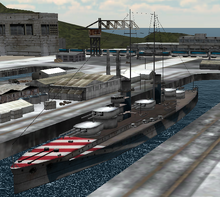 Ad blocker interference detected!
Wikia is a free-to-use site that makes money from advertising. We have a modified experience for viewers using ad blockers

Wikia is not accessible if you've made further modifications. Remove the custom ad blocker rule(s) and the page will load as expected.