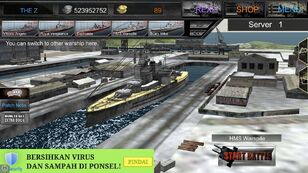 HMS Warspite
 was a 
Queen Elizabeth
-class battleship built for the Royal Navy during the early 1910s. Her thirty-year career covered both world wars and took her across the Atlantic,Indian, Arctic and Pacific Oceans. She participated in the Battle of Jutland during the First World War as part of the Grand Fleet. Other than that battle, and the inconclusive Action of 19 August, her service during the war generally consisted of routine patrols and training in theNorth Sea.
She was involved in several major engagements, including battles in the North Sea and Mediterranean, earning her the most battle honours ever awarded to an individual ship in the Royal Navy and the most awarded for actions during the Second World War. For this and other reasons Warspite gained the nickname the "Grand Old Lady" after a comment made byAdmiral Sir Andrew Cunningham in 1943 while she was his flagship.When she was launched in 1913 the use of oil as fuel and untried 15-inch guns were revolutionary concepts in the naval arms race between Britain and Germany, a considerable risk for Winston Churchill, then First Lord of the Admiralty, and Admiral John Fisher who had advocated the design. However, the new "fast battleships" proved to be an outstanding success during the First World War. Warspite was refitted twice between the wars, but advances in technology and the cumulative effects of battle damage relegated her to the role of shore bombardment towards the end of the Second World War. Decommissioned in 1945, she ran aground under tow in 1947 on rocks near Prussia Cove, Cornwall, and was eventually broken up nearby.
The Ship was the event ship released in the 1.63 version while the earlier Dunkerque class have been released on the 1.62 update
Ad blocker interference detected!
Wikia is a free-to-use site that makes money from advertising. We have a modified experience for viewers using ad blockers

Wikia is not accessible if you've made further modifications. Remove the custom ad blocker rule(s) and the page will load as expected.