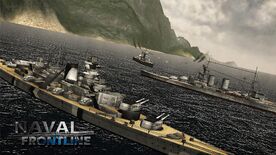 Convoys have been supplying Britain for 1 years. Nonetheless, we need to have a deterrent to make the Arctic Convoys halt. That's where you come in, break through British Defenses, and complete Operation
Rhineburg!
Stage 1-
1 Dido Class Light Cruiser
1 L-Class Destroyer
3 Transports
Stage 2-
2 York Class Heavy Cruisers
2 Dido-Class Light Cruisers
Stage 3-
2 Dido Class Light Cruisers
1 L-Class Destroyers
2 County Class Heavy Cruisers
Stage 4-
1 Admiral/Hood Class Battlecruiser
1 King George V Class Battleship (note 10 14" Cannons, not 12)
Allies:
Prinz Eugen (All stages)
One Type 1936A Class Destroyer OR Escort
Ad blocker interference detected!
Wikia is a free-to-use site that makes money from advertising. We have a modified experience for viewers using ad blockers

Wikia is not accessible if you've made further modifications. Remove the custom ad blocker rule(s) and the page will load as expected.