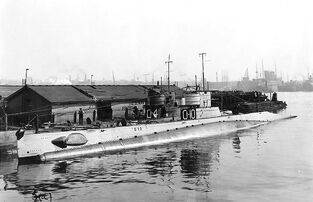 | | |
| --- | --- |
| Affiliation | United States Navy |
| Max Displacement | 520 |
| Main Weapons | 1 |
| Sub Guns | No |
| Torpedo | 4 tubes (forward) |
| Depth Charges | No |
| Has Camouflage | No |
| Cost | //Information Required// |
| REXP | //Information Required// |
| REXP Gain Rate | 10% |
| Required Level | 18 (//Information Required//) |
| Upgraded From | Atlanta Class |
| Upgrades Into | S Class (USN) |
The United States Navy's sixteen O-class submarines were created out of the lessons learned from the L class. The O class were about 80 tons larger than the L class, with greater power and endurance for ocean patrols. Due to the American entry into World War I the O class were built much more rapidly than previous classes, and were all commissioned in 1918. O-1 through O-10 were group 1, designed byElectric Boat, O-11 through O-16 were group 2, designed by the Lake Torpedo Boat Company and sometimes considered a separate class. The group 2 boats entered service just before the end of World War I. Eight of the group 1 boats survived to serve in World War II as training boats when they were recommissioned in 1941.
The O class were built by five shipyards: O-1 by Portsmouth Navy Yard,Kittery, Maine, O-2 by Puget Sound Navy Yard, Bremerton, Washington,O-3 through O-10 by Fore River Shipyard, Quincy, Massachusetts, O-11 through O-13 by Lake Torpedo Boat Company, Bridgeport, Connecticut, and O-14 through O-16 by California Shipbuilding (formerly Craig Shipbuilding), Long Beach, California.
Ad blocker interference detected!
Wikia is a free-to-use site that makes money from advertising. We have a modified experience for viewers using ad blockers

Wikia is not accessible if you've made further modifications. Remove the custom ad blocker rule(s) and the page will load as expected.