| | |
| --- | --- |
| Founded in/Основан | November 7th, 2015 |
| Tag/Тег флота | RIN |
| Nation/Основная страна | Russia |
| Admiral/Адмирал | CHERUBAEL |
| Size/Численность (7 July 2017) | 108 |
| Contacts | Our group: vk.com/navalft |
What is the Russian Navy?
It is a tradition. That's ship hourglass - sklyanki, the strikes of the bell every half hour. The sample of sea water on the oath. Solemn oath to serve the Fatherland.
It is a glorious history. Gangut. Chesma. The Sinop Bay.
It is firmness and courage.The willingness to sacrifice their lives for the sake of victory. Two defenses of Sevastopol.
And we remember it. Stored the glorious traditions of the Russian fleet. We go under the flag of St. Andrew!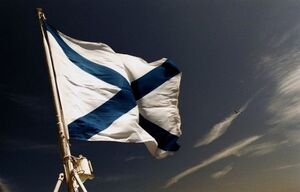 Дорогие софлотовцы! Расскажите о нашем славном флоте другим. Лучше на английском. Admiralofbaltic.
Ad blocker interference detected!
Wikia is a free-to-use site that makes money from advertising. We have a modified experience for viewers using ad blockers

Wikia is not accessible if you've made further modifications. Remove the custom ad blocker rule(s) and the page will load as expected.