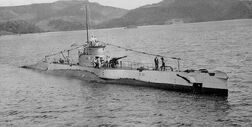 S Class SubmarineEdit
Afilliation
United States Navy
Max. Displacement
1,062
Main Guns
1
Sub Guns
N/A
Torpedoes
4 
Depth Charges
N/A
Has Camouflage
No
Cost
//information required//
REXP

//

information required//
Required Level
28
Upgraded From
O Class
Upgrades Into
V-Boat (Barracudas)
The United States' S-class submarines, often simply called S-boats (sometimes "Sugar" boats, after the then contemporary Navy phonetic alphabet for "S"), were the first class of submarines with a significant number built to United States Navy designs. Others of this class were built to contractor designs.
The United States Navy commissioned 51 S-class submarines from 1920 to 1925. The first S-boat, USS S-1 (SS-105), was commissioned in 1920 and the last numerically,USS S-51 (SS-162), in 1922. The last of the class actually commissioned was USS S-47 (SS-158) in 1925.
Ad blocker interference detected!
Wikia is a free-to-use site that makes money from advertising. We have a modified experience for viewers using ad blockers

Wikia is not accessible if you've made further modifications. Remove the custom ad blocker rule(s) and the page will load as expected.